Whether you have recently moved into a new property with trees that need caring for, or you have existing trees that are looking a little unhealthy; finding an arborist is always the recommended course of action. But, how do you go about it? Are arborists expensive?
Should you decide to find an arborist to assist you, how much do they cost per hour? In this article, we'll tell you everything you need to know, including how much an arborist's report costs.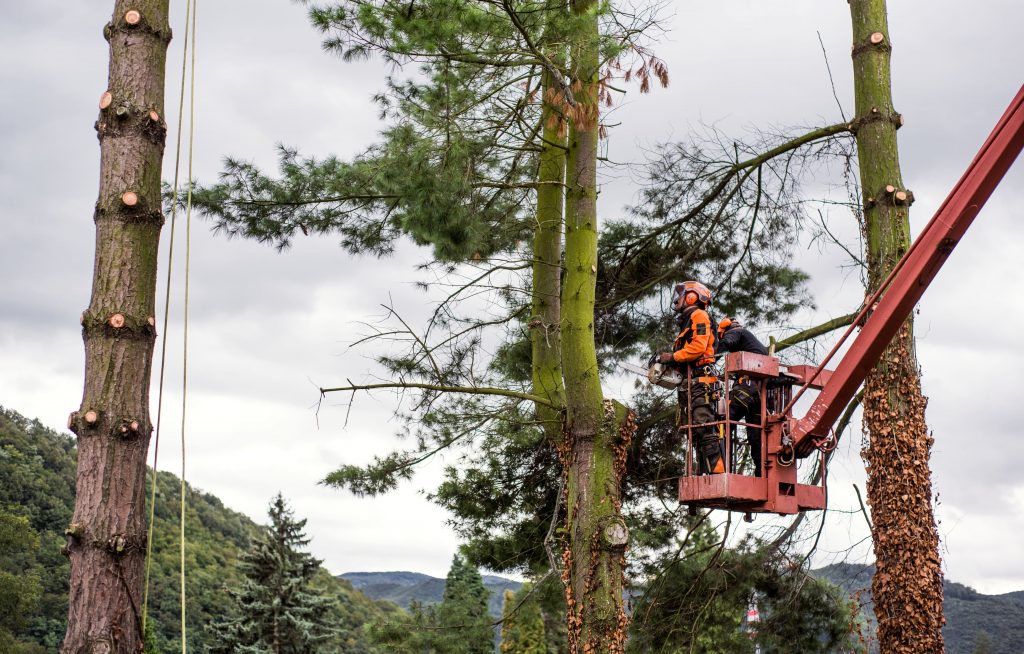 How do I find an arborist?
If you are wondering how to find an arborist, then we'll break it down for you. Naturally, a quick Google search and you'll be inundated with different options. Just as if you reach out on Facebook, you'll have every man and his dog with a chainsaw claiming to be able to help you out, cash in hand.
The fact is, hiring the right arborist for you requires a little thought and consideration. Rushing in and choosing the first person you come across can be a risk—particularly with something as dangerous as having a tree felled in your back garden.
If you rush and roll with a friend of a friend or some "Jack-of-all-trades" without the proper licencing and qualifications, you could well end up with a tree crashing through your roof, which we can all agree is not ideal.
Here's what you need to look out for:
Check credentials and certification: Without the proper arboriculture certification, you'll be putting yourself at risk. Tree work is dangerous and if you hire someone without the proper experience you may end up regretting it.
Seek out references if possible: Ask for references if possible or at the very least look at their websites and social media platforms for testimonials and social proof.
Get estimates from several firms: It always helps to do a little bit of shopping around before you make a final decision.
Don't rush in if promised a discount: If a company offers you a discount on their services from the very get-go unless it's part of some sort of special promotion, it can be seen as desperation. A qualified arborist will not undervalue their services so quickly.
Avoid arborists who recommend excessive pruning: If an arborist that you are talking with strikes you as perhaps not being knowledgeable as they make out and suggests removing a significant amount of the branches and canopy of the tree, then you should definitely get a second opinion.
Don't allow an arborist to use shoe spikes: Never allow an arborist to use shoe spikes when climbing your trees. These can cause serious damage to a tree and using them is bad practice. Any reputable arborist worth their salt, such as AB Trees, would never use them and put your tree through any unnecessary trauma.
Look for a fair market rate: If the prices seem fair and affordable, that's usually because they are. This is why it's important to shop around a little bit to make sure that you are not being overcharged.
Get proof of insurance: Any reputable tree company will not shy away from proving that they have the necessary insurance. In fact, most arborists have come to expect it. If you ask and an arborist tries to avoid it altogether, then that should be a red flag. If you hire an arborist without insurance and an accident happens, it may end up costing you a whole lot more than you bargained for.
Don't always hire the cheapest: It can be tempting to hire that friend of a friend who claims to have experience with trees, but when you hire the cheapest, it's usually because you're hiring the least skilled or experienced.
Are arborists expensive?
Are arborists expensive? It's all about perspective really. If you do not have much experience in this regard then at first, finding out how much an arborist charges might shock you. However, when you consider all of the factors involved, the price of hiring an arborist is actually incredibly reasonable.
How much do arborists cost per hour?
How much do arborists cost per hour? On average, you can expect to pay around $70 per hour for a professional tree care service. However, bear in mind that the hourly rate might not necessarily reflect the total cost of the job. There are other factors to consider, such as:
How many workers are required?
Is specialist equipment needed?
How much accessibility is there to the tree in question?
How big is the tree?
What condition is the tree in?
And more
As such, if you want an accurate estimation of how much you will be likely to pay for an arborist to assist you, your best bet is to consult with certified arborists and collect some quotations before making a final decision.
How much is an arborist's report?
How much is an arborist's report? If you would like expert advice from a qualified arborist on how best to care for the trees on your property, then having an arborists report drawn up is the way to go. This is usually a requirement for commercial properties and land where the general public will be walking in close proximity to the trees.
Generally, for an arborist report in Australia, you'll be looking at anywhere between $300 and $500 per tree – though discounts will likely be made available for large properties with multiple trees in question.
Conclusion
So long as you take your time and follow the advice listed above, finding the right arborist for you should be fairly easy.
Hopefully, you won't need to pay much more than $70 an hour, but remember that there are many factors that influence the total cost.
In any case, we hope that this article has been helpful for you and wish you all the best.